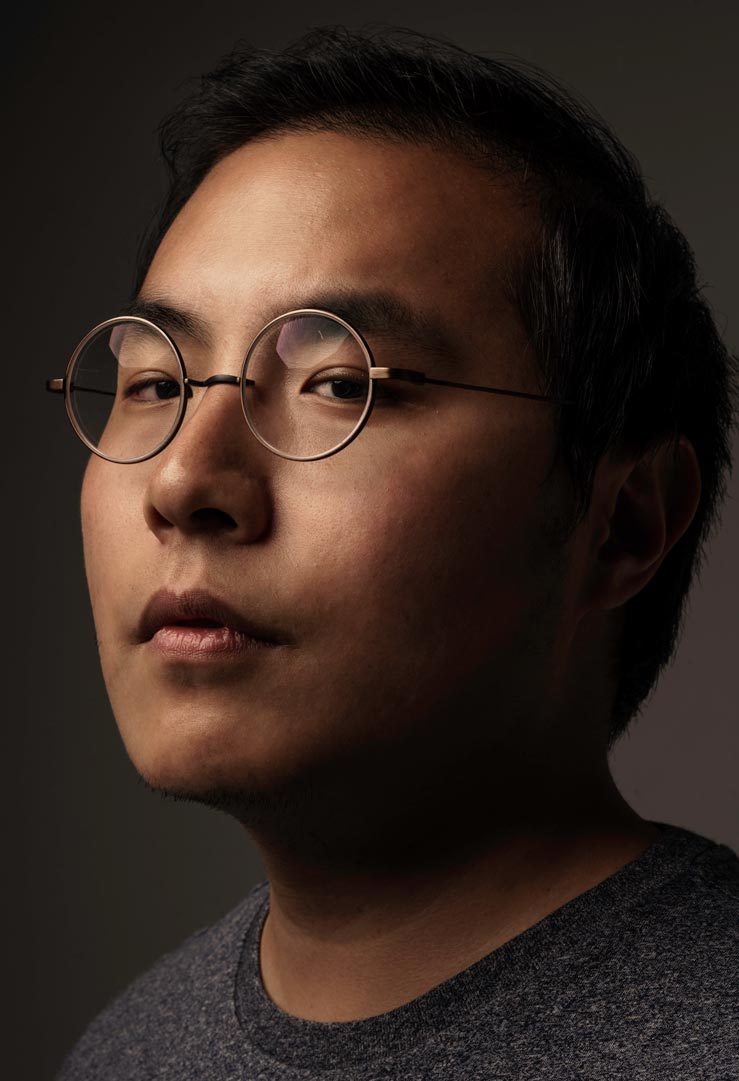 簡介:
古低音管演奏家 / 巴洛克管風琴家 / 攝影師 / 文化旅行者/ 作家/ 世界傳統美食吃貨。
 從小愛就反其道而行,熱愛鑽研冷門的領域,偶像為在瑞士巴塞爾認識的文藝復興人文主義思想家與歐陸旅行者- 伊拉斯謨斯Erasmus von Rotterdam, 熱愛音樂,歷史,攝影,與各國傳統文化,尤其是演奏歐洲文藝復興至巴洛克時期的音樂歷史,與拍攝中東西亞的人文風情,崇拜一切平凡真實的自然美。
並認為藝術不分領域,相輔相成,拍照時總有搭配的音樂在耳邊響起。
為了想及早沈浸於音樂之中,於 16 歲時提著一隻皮箱隻身赴奧地利與瑞士留學,於奧地利格拉茲國立音樂大學與瑞士國立巴塞爾古樂學院學習巴洛克管風琴與古低音管。畢業於巴塞爾古樂學院古低音管學士與雙碩士文憑,旅歐至今共 12 年, 除了音樂以外,對美感的追求是沒有限制的,在奧地利進修時,在每個週末流連於維也納的藝術史博物館 Kunsthistorisches Museum Wien 參觀文藝復興晚期至巴洛克時期的古畫,研究早期繪畫大師如林布蘭、維梅爾等描繪光影之美。 在幾年後於巴塞爾自學攝影,因為對於古藝術的熱愛,而使用文藝復興繪畫的用光與構圖方式幫人拍攝肖像,並開設個人攝影工作室,用獨特個性化的拍攝手法拍攝歐洲各方的表演藝術者與其海報/專輯封面,2016年與以色列經濟文化辦事處合作拍攝猶太大屠殺紀念,2017年與巴塞爾七絃琴古樂團La Cetra Barock Orchester 長期合作拍攝旗下音樂家與演出劇照,其攝影作品刊登於德意志留聲機公司的專輯,攝影作品刊登於兩廳院,華航機上專刊,與以色列Ynet媒體, 2015年起曾於台灣於國立台灣大學、成功大學、文藻外語學院、信鴿法國書坊,台北市立圖書館擔任藝文講座,與受邀於飛碟電台,台北愛樂電台,漢聲廣播電台講解歐洲古樂、攝影與旅遊。
從 2010 年起開始安排每年的個人深度旅行,拍攝傳統和品嚐各國音樂與美食,所赴的國家有西歐各國、冰島、巴爾幹半島,中東的約旦、以色列、埃及與北非的摩洛哥,及中國、日本等亞洲國家。 目前任職於Martin Chiang The Observer攝影工作室,講座講師,關鍵評論網與天下雜誌換日線專欄作家,並於2019年與旅歐美的台灣年輕巴洛克古樂家們創立微光古樂集The Glæm,現為微光古樂集團長。
The Taiwanese Photographer/ Early Music musician Martin Chiang is traveling around the world searching for authentic culture manifestations and working as a portrait photographer.
​Having
​g
raduated from
​the
 Schola Cantorum Basiliensis in Basel,
​Switzerland,
 with master degrees
​in the field of
 European early music as a historical bassoon player,
​ 
​h
e learned how to see
 observe'
and respect the world and
​its
 people, recognizing and
​attempting to capture 
unchanged their
unique
 authentic style
​s
.
During his study in Austria and Switzerland, he regularly visited museums such as
​the
 Kunst
​H
istorisches
​M
useum of Vienna, where he got in touch
​with
 and
​was impressed
 by the old Renaissance and Baroque masters
​'
works, their simple lighting and authentic portraits paintings that make a 16 century daily life scene look astonishing.
Later on he started to take photos of musicians and performers in such a fashion.
His background as a musician gives him an understanding of
​performance and its needs
, how
​things should
 be shown in public, and as well a
​n insight into
the
​daily life of the
 people behind the professions.
His interests are broad, ranging from cooking, ho​me design, to writing and traveling. ​Traveling ​the world ​particularly plays an important roll ​in his life, ​regularly dedicating his time to the exploration of Europe, Asia,​ the Middle East and Africa, ​going deep ​in context in order to photograph the most authentic cultural elements, places and people around the globe.

He often compares photography to his understanding of Early ​Music ​performance; it's a matter of conveying an ​atmosphere, an attitude and style, ​a process that starts ​with respecting the subject as is, reading and interpreting in a​n honest way, to finally ​bring it in contact with ​your personal emotion and creativity.

He worked ​(not 'works' maybe?) with several travel agencies, musicians, ​orchestras ​and ​magazines, playing in concert halls and participating in CD productions.
His works ha​ve been published on ​the ​Air ​China inflight magazine, ​as a cover photo ​on the Taipei National Concert ​Hall magazine, ​as CD ​booklet photos ​for the Deutscher Grammerphone ​label, and ​​on Ynet​, the Israeli news and general content website.

When he is not traveling as a photographer or performing ​in concerts, he writes articles as a columnist, and is passionate about cooking, striving to learn the ways of ​the different cultures, especially those of his homeland Taiwan and of the people related with the Silk Road.
To contact Martin, write an email to the ad​dress ​below or follow his social media profiles: